I thought I would review my sales from 2011 as I prepare for new things in 2012. I'm wondering if I should repeat any of my items that sold. I suppose I should but I find that I don't have interest in repeating something. Very often my pieces as one of a kind. Here are some of my favorite creations that sold from my
Angelsneverlastings
Etsy shop in 2011.
In January I sold this dried flower wall topiary. I had two and both were sold to the same person.
This dried topiary was flat backed and hung flat against a wall. This unique grapevine base was carefully decorated with soft green tone emerald king and accented with velvety pink celosa, soft pink globe amaranth, burgundy nigella, and soft white larkspur.
Here's another unique wreath that sold in March.
A heart shaped twig wreath beautifully decorated with white shells, soft green emerald king, fragrant lavender, pink celosa and white larkspur. This wreath measured approximately 20" across. It was so soft looking and much more beautiful than the picture showed.
One of my mini-wreaths sold in April.
Dried flowers and sea shells decorated a 6" grapevine. These are perfect if you have a small spot to fill.
This grapevine wall hanging sold in June. This was a beautiful grapevine twig background with a handmade cloth angel. The angel was accented with silver king, deep blue larkspur, velvety pink celosa, pink globe amaranth, and fragrant eucalyptus. Here was the feedback from the customer:
"Love this! It is perfect for what I had in mind. And it arrived in very good shape - good packaging on a fragile item. Thank you. Highly recommended seller"
In October this beautiful dried flower gathering was sold:
A dried flower mix of fragrant lavender, velvety pink celosia, white larkspur and globe amaranth beautifully decorate a bow shaped twig base.
Feedback from customer: "Very beautiful and fragrant display. Nicely packaged for shipment."
This unique angel shaped grapevine decorated with mixed dried florals sold in November.
Customer feedback: "Super quick shipping - so cute!"
Here is one of my seashell photo frames that sold in December. This 4" by 6" photo frame is decorated with assorted seashells and sea glass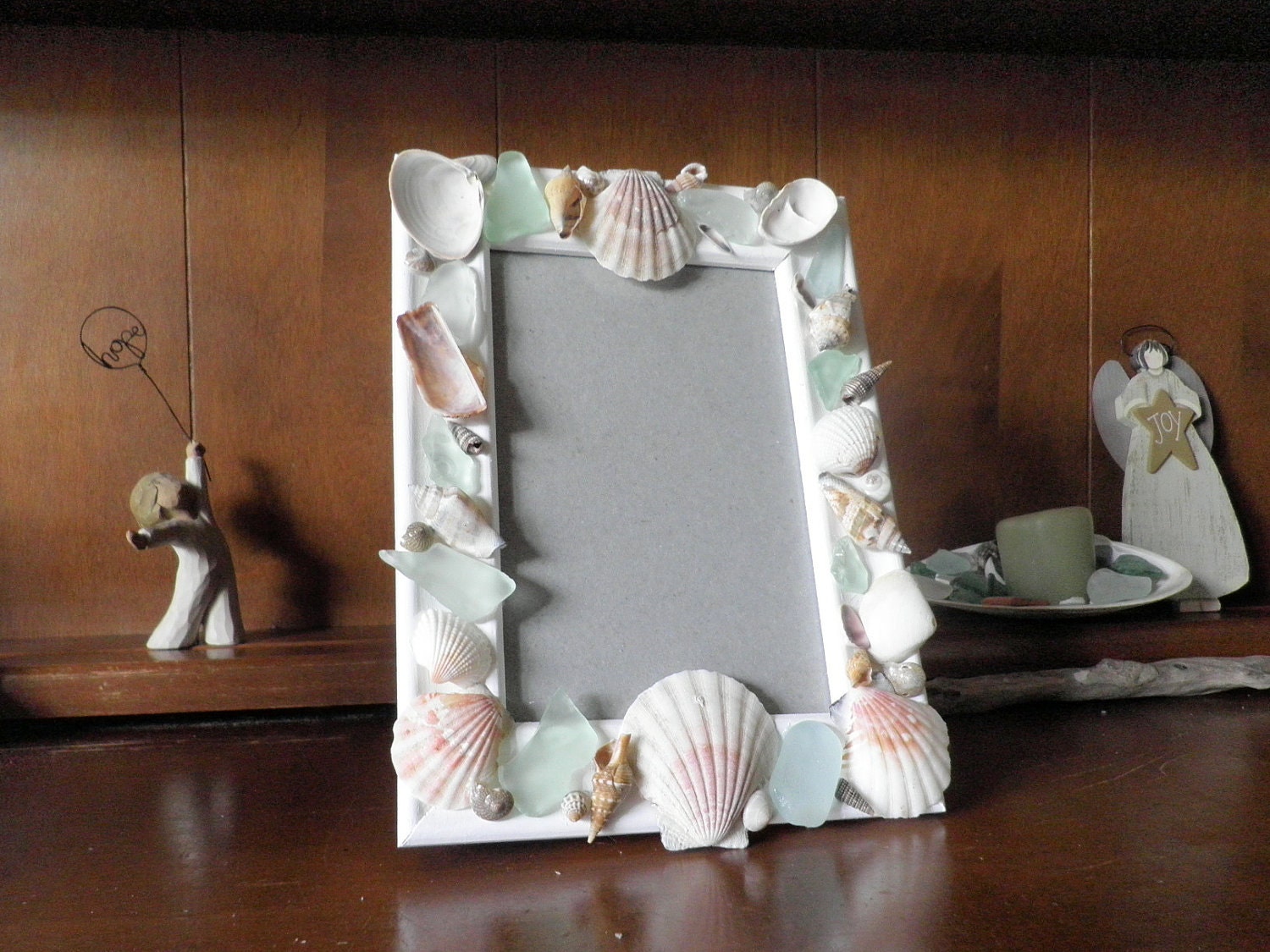 And lastly, this Christmas wreath sold in December.
Customer feedback: "JUST BEAUTIFUL!!! Very fast delivery! Packaged very well."
So here I am looking for inspiration and ideas. What should I do in 2012? Should I continue my dried flowers? Should I do more silks? Photo frames? Angels? More holiday wreaths? I would appreciate any comments or ideas you might have. I'll be here but I'm taking a few months off to recharge and renew my creative energies. In March I should have some new creations to list in my etsy store.